We have over 30 years of cumulative experience in supplying clients with qualitative and quantitative research and fieldwork services, across different methodologies in international markets.
Qualitative Methodologies
We use hands-on qualitative techniques to uncover insights about individual behaviors and reasoning. Our network of experts offers specialized recruiting, screening and moderating services across Europe, North America, and Asia. We are highly experienced in a full range of qualitative research methodologies including:
Quantitative Methodologies
We use quantitative research processes to collect and analyze data needed to inform our client's objectives and strategies. This data is based on a sample of your target audience and allows us to use surveys, polls, and questionnaires to measure behaviors (past, present, and future), performance, satisfaction, and perceptions. We specialize in the following quantitative methodologies:

Online and Virtual
Group Discussions
Ethnographic Observations
Co-creation online diaries

Audiences:
We are experts in Consumer, B2B and Medical.
CONSUMER
Profiled by region
Profiled by demographics
Profiled by family structure and household income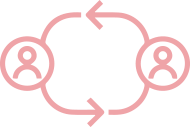 B2B
Profiled by region
Profiled by type of activity
Profiled by business size

MEDICAL
Physicians and Specialists
Patients and their various conditions
Caregivers
KOL